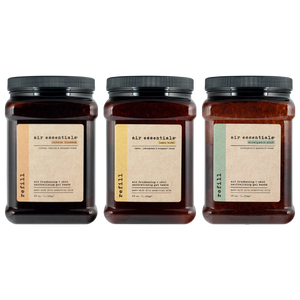 air freshening & odor neutralizing gel bead refill bundle pack
Sale price Price $99.95 Regular price $119.85 Unit price / per
48 ounces in each air freshening & odor neutralizing gel bead refill.
personalize your experience with air essentials gel beads! in efforts to enhance our eco-footprint, we created the air essentials gel bead refills to provide you with options to refill your air essentials gel bead jars in the comfort of your own home, as well as design your own experience with the gel beads in any container from your home to match your home aesthetic. interested in keeping the beads discrete? your favorite vase or decorative bowl is the perfect spot for gel beads refills!  
the gel beads themselves naturally fit in as a staple in your home for around-the-clock odor neutralizing. air essentials gel beads are perfect for the recurring odors within your space. a beautiful and thoughtful delivery on fresh scents, our gel beads were created to discreetly elevate your home's scent profile & serve your smaller spaces with up to 60 days of 24-7 freshness. 
fall in love with all three refreshing scent profiles:

our citrus blossom scent radiates bright notes of citrus, vanilla, and lavender, creating a balanced presence in your home between vibrance and calm. 

for a burst of sunny, fresh fragrance in the home, our lemon burst scent combines notes of lemon, lemongrass, and bergamot to create a light and inviting atmosphere.

set the scene with our spa-like scent, eucalyptus mint. a blend of eucalyptus and spearmint to freshen and brighten your room. 

how to use:
pour the gel beads into an existing air essentials 12-ounce jar or your favorite vase or bowl for added decoration. for maximum effectiveness place in a well-ventilated area and periodically shake container side to side. each refill jar has 48 oz of gel beads. 
what's in this product:
air essentials air freshening & odor neutralizing gel beads contain only plant-derived ingredients and a blend of pure essential oils. each jar provides a pleasant fragrance that does not overwhelm the senses.
air essentials gel beads do not contain parabens, sulfates, dyes, synthetics, alcohol, or phthalates. every jar is formulated with plant-derived ingredients. freshen your home, office, car, rv, and boat safely with plant-derived ingredients and a blend of pure essential oils. the gel beads will neutralize odors from smoke, garbage cans, pet areas, food, cooking, and anywhere recurring odors are a problem.